VDG is the leader in the design and manufacture of drum motors for belt conveyors. With in-house engineering, R&D, and precision manufacturing in USA and Canada for over 35 years, VDG ensures product quality, fast delivery, and customer support.
GrizzlyDrive® Drum Motors are manufactured for belt conveyor applications, from aggregate processing to underground mining, ship loading and power generation. The high quality precision-made components are engineered to withstand demanding, harsh, abrasive, and dusty environments. The motor, gear reducer, and bearings are enclosed and protected inside the drum, and designed for 80,000 hours of service life before maintenance, increasing safety, while decreasing maintenance and operating costs.
The all-enclosed design and robust construction of the GrizzlyDrive® reduces cost of ownership, and provides belt conveyors with reliability, longevity and performance in the harshest of conditions. GrizzlyDrive® Series Drum Motors are available up to 500HP, with a wide range of diameters, belt speeds, lagging, and options to suit various belt conveyor applications. The optional VDG patented IronGrip™ lagging extends the life of the belt and other rotating conveyor components, such as rollers and idlers. VDG also offers a unique Belt Cleaner that effectively removes residual materials without wearing or damaging the belt.
---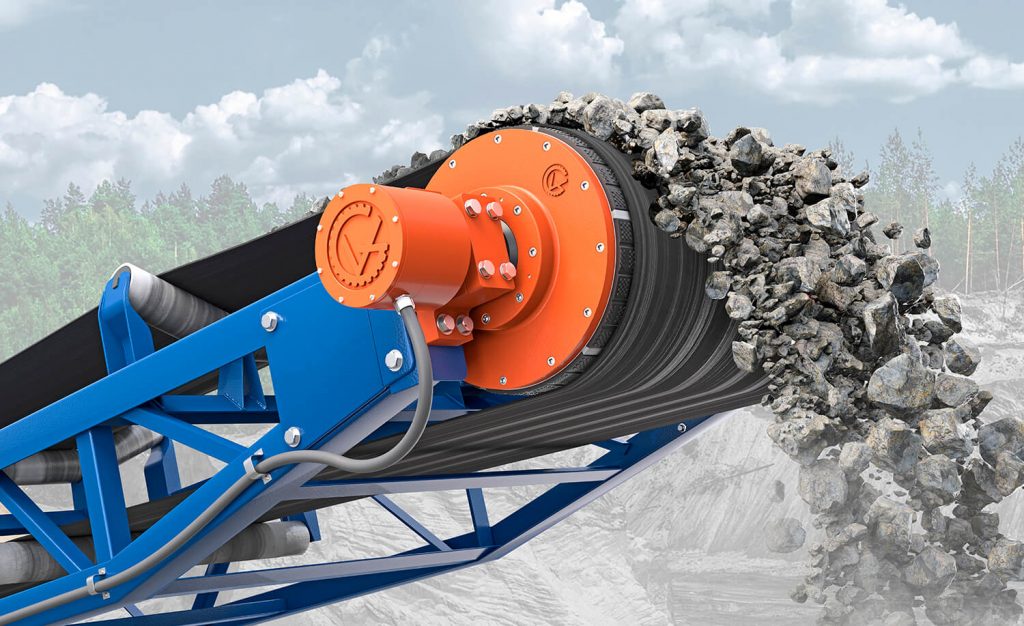 Lower Cost of Ownership
With all components enclosed inside the drum, and the motor coupled in-line to the gear reducer, the GrizzlyDrive® operates at 96% mechanical efficiency, reducing energy consumption with up to 30% in savings.
The all enclosed design eliminates guarding and costly routine maintenance intervals required with traditional external motor and gearbox conveyor drives, reducing cost of ownership and operating costs.
---
Increased Longevity and Reliability
The GrizzlyDrive® Drum Motor is manufactured with high quality precision-made components and engineered for 80,000 hours of service life before maintenance. It features robust mechanical seals and cylindrical roller bearings that sustain high levels of belt tension, shock loads and vibration. The VDG patented Oil Cooler maintains optimal lubrication and heat dissipation, extending the life of the drive. Learn how IronGrip™ lagging also contributes to the reliability and longevity of the GrizzlyDrive®.
---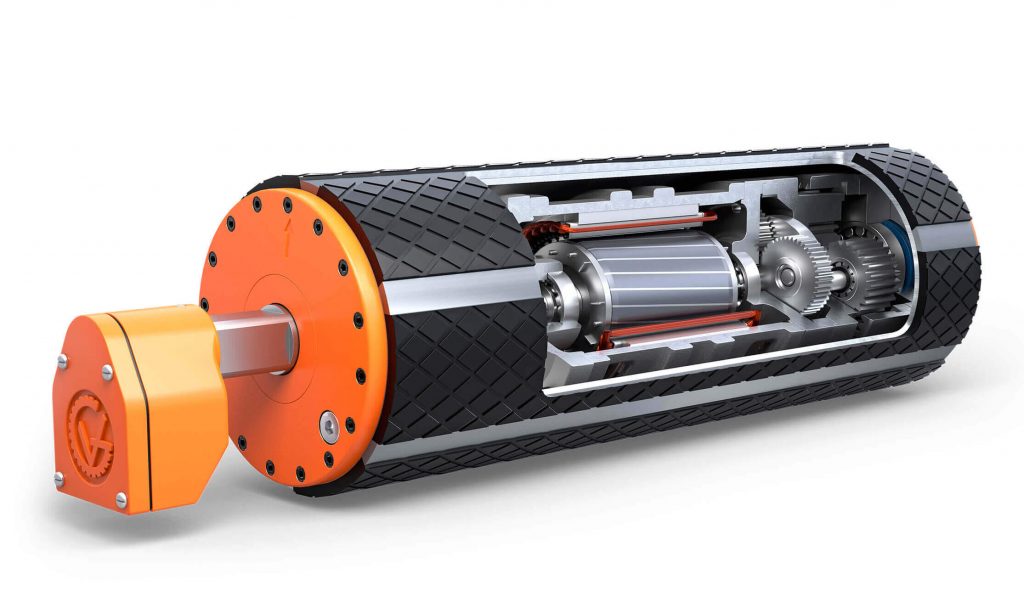 Increased Safety
The GrizzlyDrive® eliminates the external motor, gearbox, pillow block bearings, chains, and chain guards required with traditional external conveyor drives that can pose safety hazards to operators, and therefore require protective guarding. With all drive components enclosed and protected inside the drum, the GrizzlyDrive® is maintenance-free with only an oil change required after 80,000 hours of service, reducing personnel contact and ensuring a safer and more efficient conveyor drive solution.